Big Shoot in Milwaukee
TBA
November 8 Shoot
We will finish about 5:30 p.m.
Hey, don't worry, your character and the situation will be explained at the shoot. It'll be fun, no dialogue, just action, action, action!
Please do not wear any makeup except for some red lipstick
At the Manderlay Bed and Breakfast, 3026 W. Wells, Milwaukee
Map:
http://maps.google.com/maps?hl=en&tab=wl&q=3026%20West%20Wells%20Street
Website:
http://www.bedandbreakfastmilwaukee.com/home.html
1. Waking Up in Hell
1919. Chicago. Waking up in Hell. Frank leaves his basement bootleg operation and goes upstairs to drag a protesting, hungover, exhausted, irrational Minnie out of bed in the late afternoon. He coddles her, yells, brutalizes her, & pours alcohol into her to get her dressed, coiffed and functioning. Billie Holiday's My Man Don't Love me, He Treats me Awfully Mean.
10 a.m. call
Kjersti
Andy O
11 a.m. call
Jimmy and Abby
2. Gangster Funeral
1920. Colosimo's Funeral. Newspaper photos of the lavish funeral, chroma keyed with live action of Minnie, 6-year old Francis, and Frank passing by the casket, while the pretty, 3 week bride of the murdered Colosimo, stands nearby, drugged and propped up by his crooked lawyer. Filmmaker's V.O. explains how families of Frank, Colosimo and his crooked lawyer were all connected. Mildred Bailey blues, When That Man is Dead and Gone.
[this is not a wardrobe suggestion just a picture of Colosimo on the left, whose funeral we will be re-enacting]
Al Capone, possible hit man
Johnny Torrio ordered Colosimo's death
12:00 noon call
All Gangster Funeral Actors
Check in with John C
Check in with Michael D if for help with your hair if you are a man
Women's hair with be checked by Genevieve
Wardrobe Men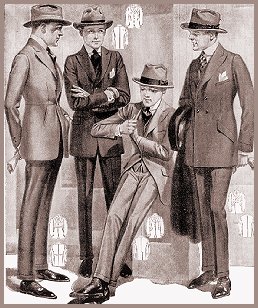 Wear your own dark colored suit. 3 piece is okay, but not necessary. White shirt, medium tie. If you have a fedora or newsboy cap, bring that. Shoes are wing tip type leather shoes without an athletic sole. Hair slicked back or parted on the side and then slicked back. Bring your own comb and brush and styling gel if you have it.
Wardrobe Women - we have dresses for you.
Hair like this:
http://www.lphouse.com/1920s.htm#1920
If you have long hair or short, your best option is lots of curl. You can get that with pin curls, rags or skinny hot sticks, possibly a curling iron. If your hair is long, pin it under in back. Do the best you can with your own hair and Genevieve will adjust for you. Bring your own comb and brush and hair spray if you have it. You may be wearing a hat, unless you are playing the singer.